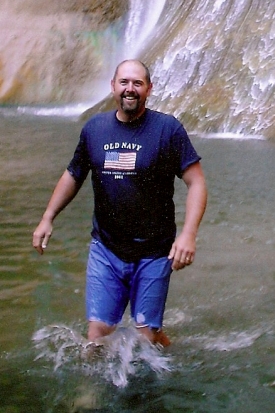 Ross was born in Utah. He has also lived in California, Texas, and Canada. Ross was raised in a small mountain town not far from the location of Sorenson's Ranch. He was active and participated in most sports during the high school years while spending any available free time in the outdoors. Ross has enjoyed hunting, fishing, camping, boating, and riding motorcycles and horses for most of his life and still continues to enjoy these hobbies today. Many of these hobbies have worked well to prepare Ross to be effective in helping our students to be able to participate in recreational activities during their time in the program.
Ross completed his coursework for an associate degree from Snow College here in Utah, and continued his education by completing the Teacher Education Program and receiving a B. S. degree from Southern Utah University. Ross was working for the Sorenson's Program as a case manager and an activity supervisor while he was going to school. Upon graduation Ross began teaching in our accredited high school, and has developed further into an academic counseling position. Ross enjoys the opportunity to research each student's academic past and the challenge of taking that information and formulating a plan for a successful future. Ross knows each student in our program and works with both the students and their parents during their stay with us.
Ross lives here in Koosharem because he enjoys the majesty of the surrounding mountains and the peace that this location affords. Ross is involved in the community in various positions and is also busy with a couple of other part-time jobs. Ross feels that his greatest achievement is that he is the father of four fantastic children who are also very active and share many of the same hobbies.