Parent Services
At Sorenson's Ranch School, we know how busy a parent's life can be. We have developed a unique system which gives parents the ability to view their child's daily report and academic status at any hour of the day. We have also provided an easy way for parents to stay in contact with the child's personal case manager via email.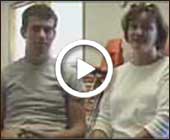 Each student has their own secured web page which is updated each week with their current level and percentage status. This page also provides information on how the child is doing with their academics and also which groups they are attending for the week. Parents can easily download monthly Progress Reports right to their own computers.
Student pages are also updated daily if there is an incident, level drop, doctor visit, activity, such as Swimming, Horse Campouts, Field Trips and more.
Our Parent Services Section is accessed using a Parent ID (Username) and Password, which takes you to the General Parent Services page. All parents of students enrolled at Sorenson's Ranch School are able to view the general section offered in the Parent Services Section. This section includes Group Schedules, Group Synopses, this month's activities calendar, recent events, and more! Once inside the Parent Service Center, the student's page is made available to the parents through a secured log-in requiring a Parent ID, username and password.
To log in to the Parent Services section, click here.