Our Program
Sorenson's Ranch School is a privately owned and operated therapeutic boarding school and residential treatment facility that has provided services to students 12 to 18 for over 30 years. The school is accredited through the Northwest Accreditation Commission, The Joint Commission Accreditation of Healthcare Organizations and The Utah Department of Human Services.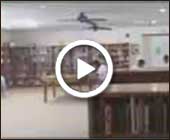 The School's philosophy is that all children are potential successes if given the right options. Our mission is to help all students stabilize and recreate their lives while acquiring skills and tools necessary to their future. The Sorenson methodology centers around consistency and firmness delivered with love and care. The school aims to help young people function successfully both with their parents and in society. Sorenson's finds its "big wilderness" setting conducive to its goal of redirecting troubled youth. Clinical services are provided under the supervision of a licensed mental health professional. Qualified professionals conduct all psychotherapy services. The client participates in individual, family, and group therapy according to needs as outlined in the multi-disciplinary team treatment plan.
Academics are a coordinated part of the treatment experience at Sorenson's Ranch School. School progress is based on mastery of the material so that no one student is pressured by arbitrary expectations, nor is the student held back should he want to work faster than his peers. Sorenson's Ranch School believes that poor performance in school is a symptom of other issues such as low self-esteem, depression, Reactive Attachment Disorder, ADHD, substance abuse, and family conflicts. By utilizing a multifaceted approach of individual and group therapy, experiential learning, behavior modification, positive mentoring, and individualized learning students are able to realize their full potential.
Brochure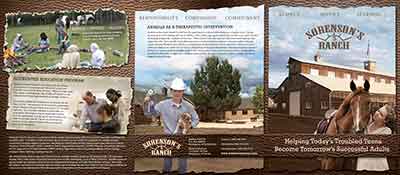 Click on brochure thumbnail to download printable PDF file